current work
'Leda & The Swan' - after Boris Mikhaïlov "Fotozeit Salzau VII" Series, 1996-1997
oil & wax on board, 140 cm x 100 cm - 2020

Ancient Vedic texts describe the material world arising from a fundamental cosmic triad of forces: creation, maintenance and destruction. The force of maintenance is necessary for creation and destruction to exist with integrity. From this interplay comes the time and space continuum and all manner of evolving life, thus begetting the human narrative. After 18 years in meditation ashrams around the world, becoming a meditation teacher and studying Ayurveda, Laura Courtney returned to Australia where she grew up to study painting. Inspired by the Tasmanian landscape Courtney trained in traditional oil painting and intially settled upon the genre of landscape to find her voice. As her work evolved Courtney began incorporating the human figure into her scenes realising she wanted to depict the human narrative in the context of Nature. After relocating intitally to Rome in 2017 and then Paris in 2018, Courtney incorporated cold wax medium into her practice, and found the variable results gave her the developmental leap and greater expressive, abstracted range that she was seeking, launching an entirely new oeuvre. Courtney's current works are inspired by classical Mythologies alongside the romantic inspiration from specific European landscapes visited in the last 3 years and woven into her evolving personal motifs. This first work ('Leda & The Swan') is the centrepiece to her first European show, intended for 2020/21 and is influenced by one of the great classical myths that has inspired poets and artists throughout Western civilisation. For Courtney it is the tantalising and innocent moment when Leda is enraptured by the beauty of this unique and elegant animal, yet unaware of it's true status as Zeus and longing for some connection, thereby sealing her fate and the tragic dramatic outcome that plays out for generations.

For information about cold wax medium
'The Battle of Ten Kings with murmuration' oil & wax on board, 100 cm x 140 cm - 2020
'Rorschach landscape with Artemis & Apollo' oil & wax on board, 100 cm x 140 cm - 2020
'Printemps à Paris' oil & wax on board 100cm x 140cm - 2020
' Eve dans le jardin des rêves' oil & wax on board, 100 cm x 140 cm - 2020
' La Grisette - Paris' oil & wax on board, 100 cm x 140 cm - 2019
'The ascension of all that is desired - Saint Malo'
oil & wax on board, 100cm x 140cm - 2020

'Notre-Dame de Paris - finished at 16.00 hr, April 15th 2019
oil on board, 140 cm x 100 cm






~ The Madonna series - a gender neutral celebration of women, dogs and other sentient muses.
'Madonna of The Pomegranate III' oil & wax on board 65 cm x 50 cm - 2019
'study for Madonna du metro Paris' gouache on archival board 40 cm x 30cm - 2020
~ small works and French landscape studies in oil and cold wax medium
~ experimental studies in oil & wax on board and/or archival paper
for the mythology series, inspired by Rome (2017) and Paris (2018/19)
'study for The Sacrafices for Sigurd' oil & wax on board, 30cm x 40 cm - 2017
'study for the death of Lucretia' oil & wax on board 30 cm x 21 cm - 2017
'Roma III' oil & wax on board 21 cm x 30 cm - 2017
'study for ' Lightning - Piazza Navona' oil & wax on archival paper - 2017
'Gaia & Uranus' oil & wax on archival paper - 2017

'Juno - Rome' oil & wax on archival paper - 2017

'You can have the universe if I may have Italy' oil & wax on board, 29cm x 21cm - 2017

'Intérieur de Paris' oil & wax on archival paper, 40cm x 30cm - 2018

'Narcissus - Paris' oil and wax on archival paper, 40cm x 30 cm - 2018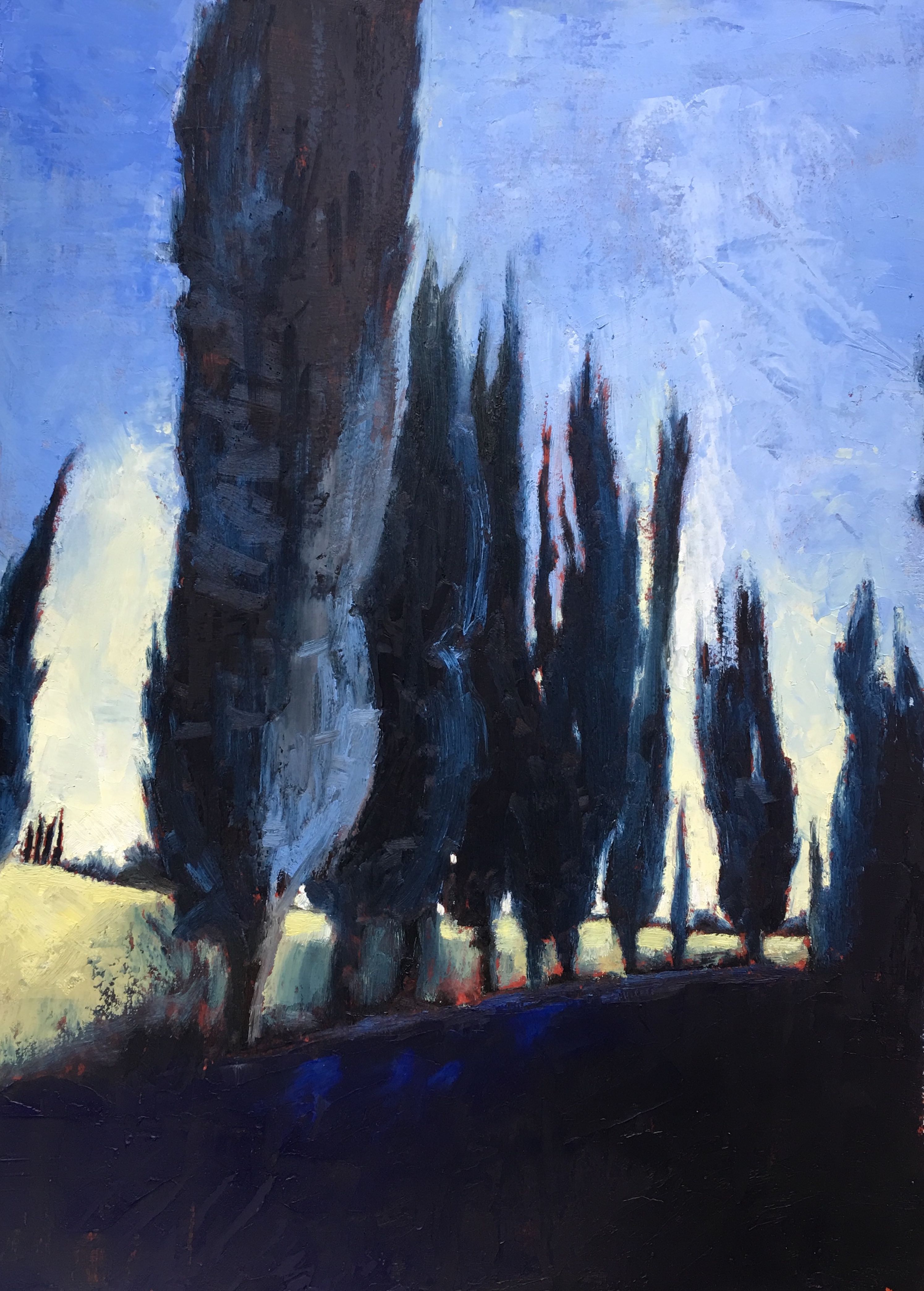 'Toscana' oil & wax on board, 31cm x 23 cm - 2017
detailof Eve from 'les jardin des rêves' 2019
~ studies for Shoji screens with gold leaf