'Leda & The Swan' oil and wax on board, 140 x 100 cm, diptych, 2019
︎
Unravelling Mythologies:
a new body of work 2020/21
This new body of work titled Unravelling Mythologies, has 3 narrative streams, representational landscapes, abstracted landscapes and Rorschach landscapes. The unifying factor is myth and the human story. This new work enters into the conversation at the beginning of the Western narrative. Drawn to the raw quality that cold wax produces I have combined this unruly medium with a highly restricted, striking palette creating the desired effect of a dynamic, matt, starkness to maximize the tension between the eternal truths of archaic stories rendered in new details through a modern expressionistic idiom.
1. The anima in myth - representational landscapes
The first completed work in this series 'Leda & The Swan' (above) was inspired by the study of Greek myths and a simultaneous unification of the separate genres that have coalesced into my oeuvre that is predominated by romantic landscapes and narrative driven works now with a predominantly female psyche or female protagonist at work whether it be human, animal or tree. In the case of this first work, the tale of Leda conjured a complete composition in my mind quite quickly, drawing inspiration from the female form in the works of Boris Mikhaïlov's Fotozeit Salzau VII Series along wiyh figurative works by Gerhard Richter and the delicate distant landscapes of Rembrandt. Other works following here are borne out of landscape studies made in my travels through Europe in the last three years, from the Scottish Highlands to the dramatic, gothic and wintery landscapes of Normandy, Saint Malo in Brittany and the epic and romantic landscapes of Umbria, Tuscany, Lazio, Veneto and the Bay of Naples.






'study for Eve dans le jardin des rêves' oil & wax on board, 100 cm x 140 cm, 2019



'The Battle of Ten Kings with murmuration' oil & wax on board, 100 cm x 140 cm, diptych, 2019


2. Rorschach Landscapes




Apollo and Artemis as hunters inspired a cold, pared back landscape wherein a tiny hunter's cabin is dominated by the two gods disguised as massive trees mirroring one another as in some surreal and impossible Rorschach landscape with a dark, muted Pthalo green sky. This mirrored motif is currently being revisited in the development of small works on copper plate. After I completed this work in early 2020 it was with some measure of disquiet I learned that Artemis and Apollo had the power to send plagues upon mortals.
'Rorschach landscape with Artemis & Apollo' oil & wax on board, 100 cm x 140 cm, diptych, 2020
'Cheval Rorschach' oil and wax on board, 20 x 40 cm, 2020
'Arbre Rorschach' oil and wax on board, 100 x 140 cm, ditych, 2020
3. Nuages et tempêtes et rêves - journeys into the abstracted landscape
Apart from music there is nothing that feeds my vision more that great literature and the master poets. This year has been darker than any before it in my lifetime and especially for the future of far too many diverse and unique ecosystems and animals. It's hard not to look into the abyss and think about our survival as one of Nature's many experiments in the great push ever onward and Nature of course will out, but some days I do wonder if we deserve such leniency and it's probably why to counterbalance the darkness I employed masses of Alazarine Crimson in this series.
'It is not down on any map, true places never are. - Moby Dick' oil and cold wax on board, 140 x 100 cm, diptych, 2020 (with detail)
'Europa - the wanderess. bound by no boundaries, contained by no countries, tamed by no time, she is the force of nature's course' oil and wax on board 100 x 70 cm, 2020
'I became insane, with long intervals of horrible sanity' oil and wax on board 100 x 70 cm, 2020
'Black River, Umbria' oil and wax on board, 140 x 100 cm, diptych, 2020
'there is no folly of the beasts of the earth that is not infinitely outdone by the madness of men' oil and wax on board, 65 x 50 cm 2020

Small works & experimental studies for Unravelling Mythologies in oil, wax, ink and gouache on board or archival paper - inspired by Rome (2017) and Paris (2018/19)

'Roma III' oil & wax on board 21 cm x 30 cm - 2017
'study for The Sacrafices for Sigurd' oil & wax on board, 30cm x 40 cm - 2017
'study for the death of Lucretia' oil & wax on board 30 cm x 21 cm - 2017
'The spirits of Notre Dame' ink and chalk on paper, 2019.
Just to think the most traumatic event one year ago in this most beautiful of cities was the fire at Notre Dame. Eerily I was finishing a large painting of Notre Dame (below) just as the fire broke out on April 15th 2019, and I had to decide whether to race home or stay watching the rapid moving fire online in my studio. When I finally got home I dropped my bag and raced the 7 minutes to La Seine to join the enormous, silent crowd watching from every bridge and avenue, paying their respects and praying for her survival while the world watched with us late into the night. Who knew greater devastation was to eclipse that day with the Australian bushfires and now a pandemic. Just as the world rallied within hours to fund the restoration of one of the jewels of Paris, I hope we rally to make significant changes out of this very dramatic year to the benefit of all, for a better chapter in our human story.



'Notre-Dame de Paris - finished at 16.00 hr, April 15th 2019, diptych, oil on board, 140 cm x 100 cm
'study for ' Lightning - Piazza Navona' oil & wax on archival paper - 2017
'Gaia & Uranus' oil & wax on archival paper - 2017
'Juno - Rome' oil & wax on archival paper - 2017
'You can have the universe if I may have Italy' oil & wax on board, 29cm x 21cm - 2017
'Intérieur de Paris' oil & wax on archival paper, 40cm x 30cm - 2018
'Narcissus - Paris' oil and wax on archival paper, 40cm x 30 cm - 2018
Quick Studies: small works on board, works on paper & landscape studies in oil and cold wax medium
The best advice I ever got as an artist is to turn up. With painting one must keeps one's hand working to maintain and build fluency, even by simply drawing for even 10 minutes every day. Quick studies are a great way to get into the flow, to experiment, to discover the endless effects of cold wax and build on ideas for larger works. I usually set up half a dozen small art boards, choose 3 colours and off I go. Here are a selection of studies that are destined for large scale works or as stand alone small works.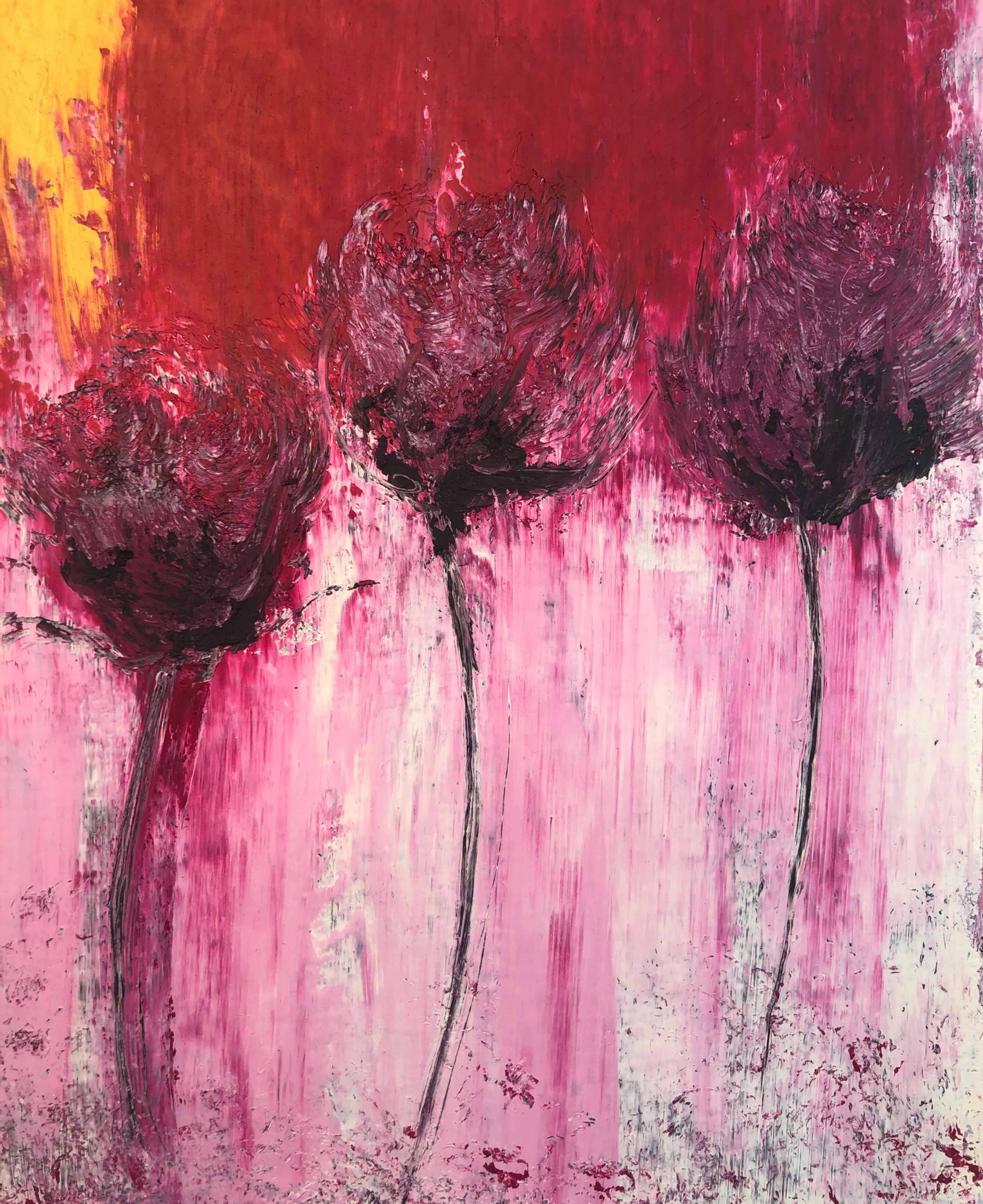 ...fin